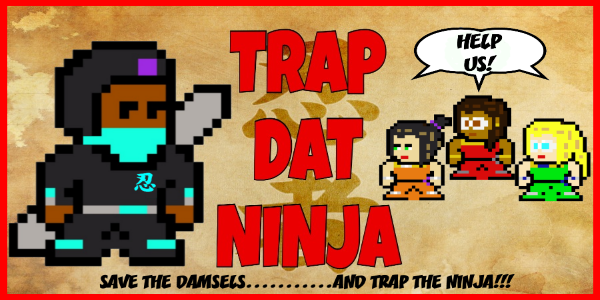 TRAP DAT NINJA
A downloadable game for Windows, macOS, Linux, and Android
---
AT LAST! TRAP DAT NINJA IS OFFICIALLY HERE!
---
******* Trap Dat Ninja:REMIX is now Available! ********
https://piosystems.itch.io/trap-dat-ninja-remix

Play as Sky Nyame (pronounced N-YAH-MAY), a young upstart Ninja who is called upon to take on the notorious Ninja Posse, Led by the enigmatic, somewhat mysterious Mr.Shinobi!
- Fun Action Bullet/Shuriken/Ninja Star Hell Shooter!
- Colorful Retro Arcade Style Graphics!
- Cool Synth/Electro/Hip Hop influenced Soundtrack!
- Interesting, Humorous and Unique Characters!
- Try Out The Free Demo!
- Windows XP or Higher
- Now Available on Android/Google Play App Market! Coming Soon To Apple/iTunes App Stores, Mac/Apple OS and other formats, so be on the Lookout!
---
***** PAID/FULL VERSION FEATURES *****
- No Ads (Mobile Versions)
- Mission Select
- Unlimited Continues
- FREE Copy of the Official SoundTrack
- FREE Possible New Updates to the Game (New Stages, Characters, ETC) for no extra charge
PAID Version History:
11/11/15 1.00.1: First Official Release of the Full Version.
Known Bugs/Misfunctions Include:
- The Mute Button not working properly. It only 'Mutes' the game sounds (Music and F/X) and won't toggle On/Off for some reason. Currently working to fix it.
- Misfires with the Main Character (Sky Nyame) 'Shoot' Button. Sometimes he just fires w/o shooting/throwing any Ninja Stars. But keep pressing/re-pressing the Button to get him to Fire again.
- Share Your Score Buttons are not functioning as stated. Really intended for Mobile versions, but right now they will only redirect you to Trap Dat Ninja's Social Media sites. Will try to implement them for Desktop.
---
***** DEMO Available (Mission 1: CASTLE/5 Levels) to Try Out *****
---
DEMO Version History:
- 1.00.1: First Demo
- 1.00.2: Added some voices to the Damsels; ramped up the difficulty/AI for a couple of stages; now you lose a life if you hit/destroy Damsels; other minor adjustments
- 1.00.3: Finally Added Power-Up Gems to the Treasure Boxes; altered the AI for some stages; added a few new sound effects
---
HOW TO PLAY:
(Instructions Also In Game)
---
- Use the Left/Right Arrow Keys to Move accordingly
- Use the Mouse/Pointer to Navigate Thru Menus/Stages
- Use Space Bar to Shoot
DEMO: Hold Down Space Bar to Shoot/Let It Go To Stop
PAID/FULL: Press the SPACE Bar to start shooting/Press it again to Stop
- Destroy all the 'Turquoise' Gem Boxes to move to the Next Stage while avoiding Enemy Ninjas and their Projectiles
- Destroy Common Treasure Boxes to Gain 'Gem' Power-Ups (each last 11 seconds):
*Amethyst (Purple): Speed-Up Shuriken/Ninja Star Fire Rate
*Garnet (Crimson Red): Double the Damage to Boxes/Enemies
*Emerald (Green): Shuriken/Ninja Stars Penetrates all Objects/Enemies
- Avoid Hitting Damsels in Distress...lose a life if you hit them
- Use Shift Key to Pause Game
- Possible Updates (featuring Game Play tweaks, New Stages, New Characters) will be Coming Along on a Periodic Basis!
---
SOCIAL MEDIA LINKS
---
Google+: TRAP DAT NINJA
LIKE Trap Dat Ninja on FaceBook: http://facebook.com/trapdatninja
Instagram: https://www.instagram.com/trapdatninja/
SoundCloud: Listen to the Official 'TRAP DAT NINJA' Soundtrack! Coming Soon for Purchase on iTunes and Google Play!
Thanks for Trying/Buying/Playing TRAP DAT NINJA! Any questions, comments or if you find any Bugs/Errors in the Game, please email me or contact me at any of the Social Media Links above.

Have Fun, Enjoy Your Self and Be Sure To:
TRAP DAT NINJA!
Purchase
In order to download this game you must purchase it at or above the minimum price of $2.11 USD. You will get access to the following files:
Trap Dat Ninja PAID.exe
42 MB
Trap Dat Ninja: Dat Official SoundTrack To The Game!
38 MB
Also available on

Download demo